With an eye for detail and emotion, RPS will Capture the Romance, tears of joy, laughter and excitement shared by your family and friends on your Treasured Day!

RPS is a "fulltime " video production company, you can be assured you will have the finest team with superior equipment and experience at your side on this very Special Occasion.

Long after this special day is but a memory, your wedding Blueray or DVD will be among your most priceless possessions. RPS has Special Wedding Packages that can be customized to suit your needs. Most importantly, we work unobtrusively, with a professional but very aggressive style of filming. Each Wedding video is treated with a fresh and innovative approach to producing it.

These Special Moments of your Wedding Day will be preserved for you and your loved ones to enjoy for generations to come. Wedding Packages are based on the number of videographers, hours and editing style you choose.
Click on image below to View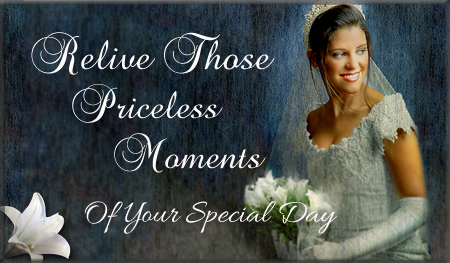 .......... ............

. .........

............

...............,,,,,,,,,,,,,,,
.
Click on Images Above to see a Sample highlights of some of our work.

Let us customize your Wedding Video Package,
Call or email us for more information & schedule to see our Demo
951-658-4342